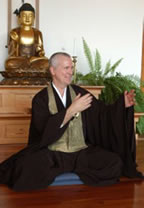 Zen Master Dae Gak, Guiding Teacher
Zen Master Dae Gak is the founder, Abbot and Guiding Teacher of Furnace Mountain. He has practiced Zen for almost forty years and received Dharma transmission from the Korean Zen Master Seung Sahn in 1994. Before becoming a student of Zen Master Seung Sahn, he studied extensively with teachers in Japanese lineages. He founded the Lexington Zen Center in 1980 and began building the retreat center at Furnace Mountain in 1986.
For more than 30 years, Zen Master Dae Gak has taught in America and internationally. In 1997-1998 he led the annual three month retreat (Kyol Che) at Shin Won Sah in Korea, and for many years he led the annual Christian Zen retreat at the Abbey of Gethsemane, where Thomas Merton lived. He leads the monthly retreat program at Furnace Mountain and also travels regularly to teach students in affiliated centers across America and in Europe. He has given Inka, or permission to teach, to a number of senior students. In 2006, he gave Dharma Transmission to Sen Shin Zen Master, Abbot and Guiding Teacher of the Queensland Zen Center in Brisbane, Australia.
Zen Master Dae Gak holds a Ph.D. in Clinical Psychology and has practiced psychotherapy for thirty years. His latest book, Upright With Poise and Grace, is available for purchase at the CZC, directly from Furnace Mountain, or through online booksellers.
Since his recognition as a teacher Zen Master Dae Gak has directed his life toward supporting people in their efforts to realize their original nature of fearless immediacy and unbounded compassion, following the clear teaching of the Zen Ancestors and his own realization that the practice of spiritual inquiry cannot be fixed, organized or institutionalized.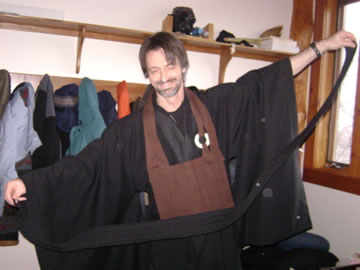 Myogetsu Osho, Resident Teacher
Mark Myogetsu Davis has studied with Zen Master Dae Gak since the inception of the Cincinnati Zen Center in 1994. In February 2008 he received Inka (permission to teach) from Zen Master Dae Gak.
Myogetsu is a married father of three twenty-something boys, and left a career in Human Resources with a Fortune 500 company for a private practice in wellness coaching and digital publishing. And he still hasn't put away his guitar. His interest is the work of manifesting awakened nature right in the midst of the challenge, heartbreak and unbounded joy of daily life.